The Legacy
Where I come from

I was born in JHB in 1952 – A Leo, and a Water Dragon. (I am also Pisces rising, which accounts for the drawings my friend Anne Foale did of me on the album, with a guitar in my hand and a fish on my head!
This is a photo of me aged about 5, gleefully playing the piano. I started lessons, but gave up as soon as the teacher smacked me on the wrist for holding my hands incorrectly.
I count myself lucky to have had very musical parents, (Pamela Blundell and the late Keith Blundell) who thought music made the world go round. I started playing the guitar when I was 11, and it was love at first pluck. I started by learning simple American folk songs, and of course Folk music from the British Isles.
This is a photo of me and my sister Julie practicing. She started playing the guitar a bit later, and was always brilliant at singing harmony. My Dad was a musician and entertainer, and he had us playing live on stage and on radio from very young. Folk music was hugely popular in the 1960's, and in our early teens we performed in venues like the Troubadour, and the Nite Beat, and of course got to hear all the new and exciting artists playing at the time.
Our home was a place where musicians were constantly around, rehearsing and recording or just hanging out.
We sang and played in my Dad's large folk group called the Balladeers, and we did numerous live shows, and most weekends were spent rehearsing and learning songs. We played in all the Folk Festivals over the years, and I was inspired by local guitarists and singers, like Edi Niederlander, Mike Dickman, Julian Laxton, Maureen England, Johnny Clegg, Jannie Hofmeyer, Alan Jefferey, David Marks and Paul Clingman.
A rare photo of the Trio "Just Us" – My sister Julie, my best friend Susie Sklair (daughter of Jazz man Sam Sklair), and myself. Micro mini skirts, boots, lots of laughter, and great harmonies. We also were very professional and took pride in getting our repertoire absolutely note perfect, practicing the harmonies over and over.
Me aged 14. Totally amped with my guitar, about to play at a festival.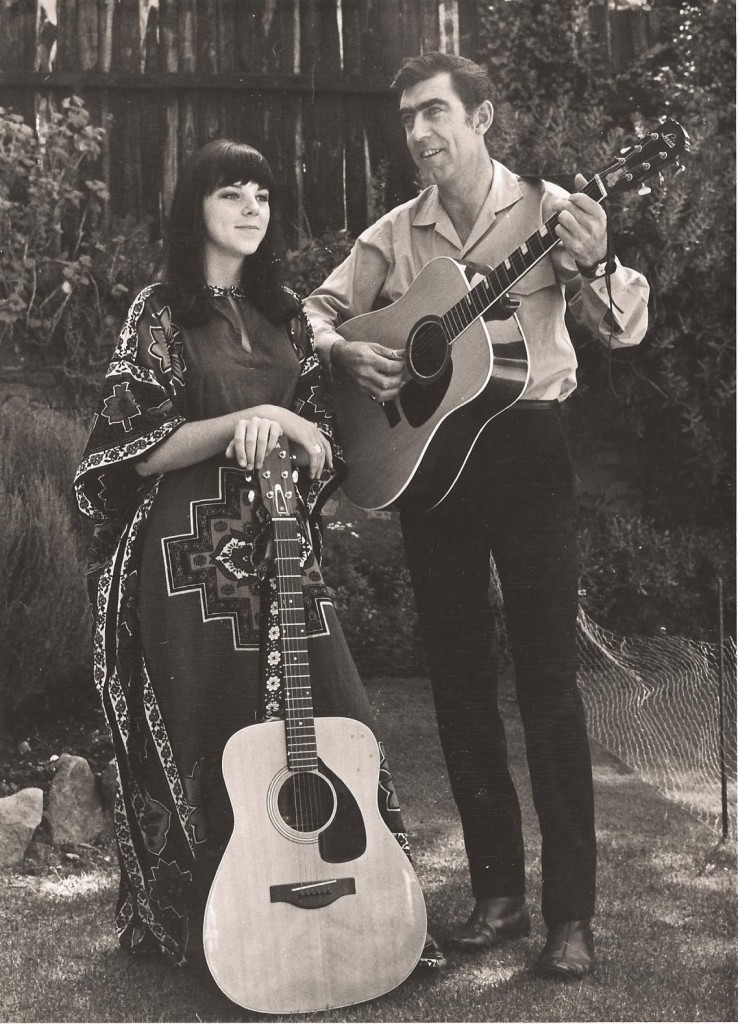 My Dad and I did many cabaret performances. We appeared live on radio, in shows like 'The Eye Gene Show" and the Nick Taylor show and the Pip Friedman Show, with live audiences. My Dad also made a couple of solo records and I got to play on some of the tracks. After I moved away from home, my sister Julie took over doing cabaret with him.
The first people I ever heard playing the guitar live, were Andrew and Paul Tracey of "Wait a Minim" fame. Andrew went on to become a huge influence on my family's musical development – He was an incredibly versatile musician, and he introduced us to African music and rhythms. This is a photo of me playing Cello Pans in one of his early Steel Bands, which all of us did at one time or another.
I started playing in a band with a group of my friends, and we called ourselves the Dunbar Street Folk Group ( I lived in Dunbar St!). In this photo are Nino Rivera and Shelagh Campbell on guitar, Paul Simmonds (double bass), Chris McHale is on mandolin and myself on banjolin. By then I was earning my living teaching guitar for Des and Dawn Lindberg, and I was also singing in restaurants and cocktail bars. It was an easy life, but I was never very ambitious, and it never occurred to me that I could write my own songs.
Another Dunbar St Folk Group photo – taken at one of the early Free People's concerts in Johannesburg, around 1969.
Here is an hilarious posed picture taken of my whole family and Andy Dillon. They were about to go off on a South African road show called "Song and Country", organized by Des and Dawn Lindberg. My Dad sold his sports shop business, bought 2 caravans, took my 3 siblings out of school for a year and toured all over South Africa and even Rhodesia. He did take a tutor along for my brothers, who doubled as the stage manager. Andy Dillon stepped in because I refused to go along. My dad was furious about it, but I had fallen in love for the first time so nothing else mattered to me (Eeish!) Harry moved into my flat in Yeoville, but when he and I separated a year later, (Eeish again), I joined the family for the last bit of the tour, nursing my broken heart. Ag shame!
In the early 1970's I started played in a duo with my boyfriend, John van Nierop. This is a photo of us jamming with Andrew Tracey at one of the Four Winds Folk Festivals.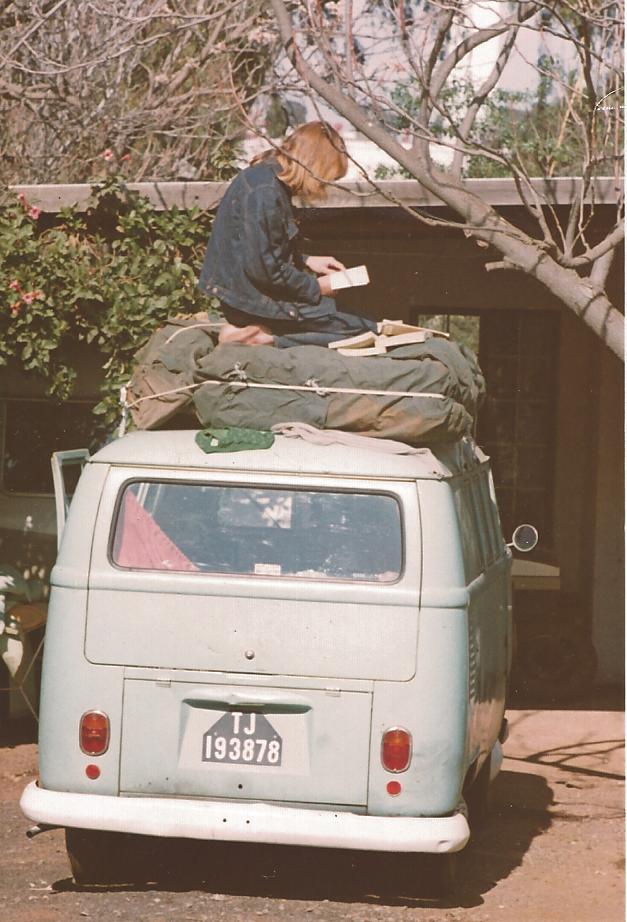 We travelled all around South Africa in a VW combi , with our sound system strapped on the roof. We were both barefoot and long haired, and in the little towns we stopped at, the locals would snarl at him ("meisie, get a haircut!") The main cities all had cooking Folk Clubs, where you could pull in to play and listen. It was also easy to find work playing in bars and hotels.
Below: This is an hilarious ad from our travels.
The Four Winds Folk Club in Port Elizabeth became our home from home, and many happy hours were spent jamming into the dawn with our new friend John Oakley Smith, who had a very strong influence on my guitar playing. It was where I met many amazing musicians who passed through or lived in PE. I met Neil Harvey there (he very generously sponsored my album) and also the young Terrence Scarr, who used to come and jam with us.
At the age of 20, I discovered I was pregnant, and we went back to JHB where we had some family support. We got married just before my beautiful son Simon was born in October 1973.
Around 1975 we formed a band in Cape Town called "Knuckles" ( I still cringe at he name), and had our first concert at the Space Theatre. The band consisted of my sister Julie Blundell, myself and John van Nierop, ( guitars and vocals) Eckie Eckhart ( sax, vocals, guitar and recorder), Marc Duby on upright bass, and Vic Higgins on drums. Immediately after that my father had us all come up to Jo'burg to rehearse for a family TV series called "Keith and Kin". This ran for 3 months every Thursday night, in the days when TV had just started in SA.
After this, John and I and some friends moved out onto a farm in Muldersdrift outside Jo'burg, where we and our young son Simon experienced rural peace and quiet. I drove into town a couple of times a week to sing in a bar, and this was enough to keep us going!
I started hating this kind of work though– I could never bring myself to do the really commercial music people wanted to hear, and playing over people eating and drinking and shouting was not my idea of fun. When backing tracks and rhythm units started being used, I pulled out of performing for a living, and concentrated on teaching the guitar.
When our marriage ended, and I moved back to Yeoville with my son, where I taught guitar and did the occasional bit of performing in Folk venues and Folk festivals. I also got some work playing in restaurants again, as I had a child to support. I still didn't enjoy it much!
Below: My sister Julie and I played as a duo called Stardust. In this photograph we were playing in an East London venue that turned out to be a strip joint, so we left the next day!
I got married again to Peter van Minnen a couple of years later, and had a second son James. We lived in Hout Bay and for a couple of years I concentrated on motherhood and completely stopped performing and just taught the guitar.
We moved back to JHB in 1980, where my father was running Barn Dance evenings, and he got me to play mandolin and guitar in his band (note the dreadful perm!).This was where I learned to be a "caller", and I have now had my own Barn Dance business in Cape Town since 1984 (see www.barndance.co.za)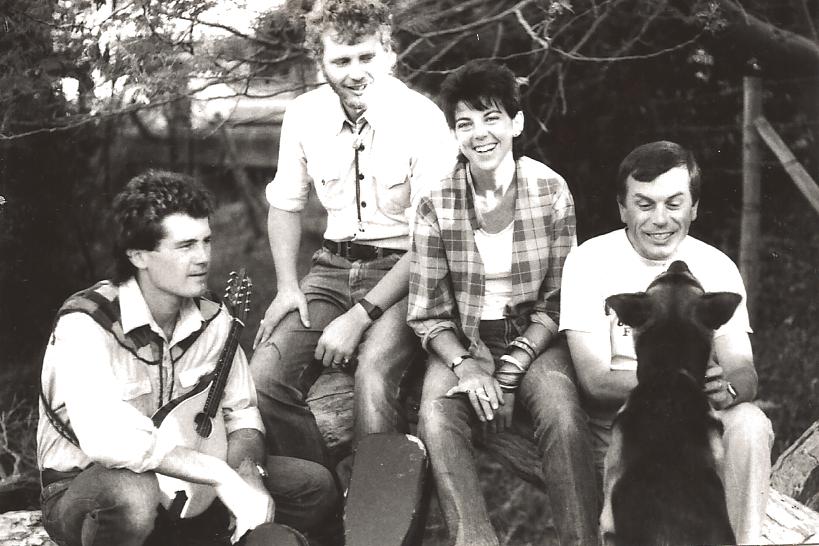 This was my first Barn Dance band in Cape Town, called Moonshine – Rob Anderson on mandolin, the late Volker on banjo and Quentin on bass guitar.
My second marriage ended while we were living in Noordhoek, and I started playing in a very exciting band with Terrence Scarr, vocals and violin) and Steph Malherbe ( double bass and bass guitar and vocals). We called ourselves Priscilla and the Press Studs! This was by far the best music I had ever played.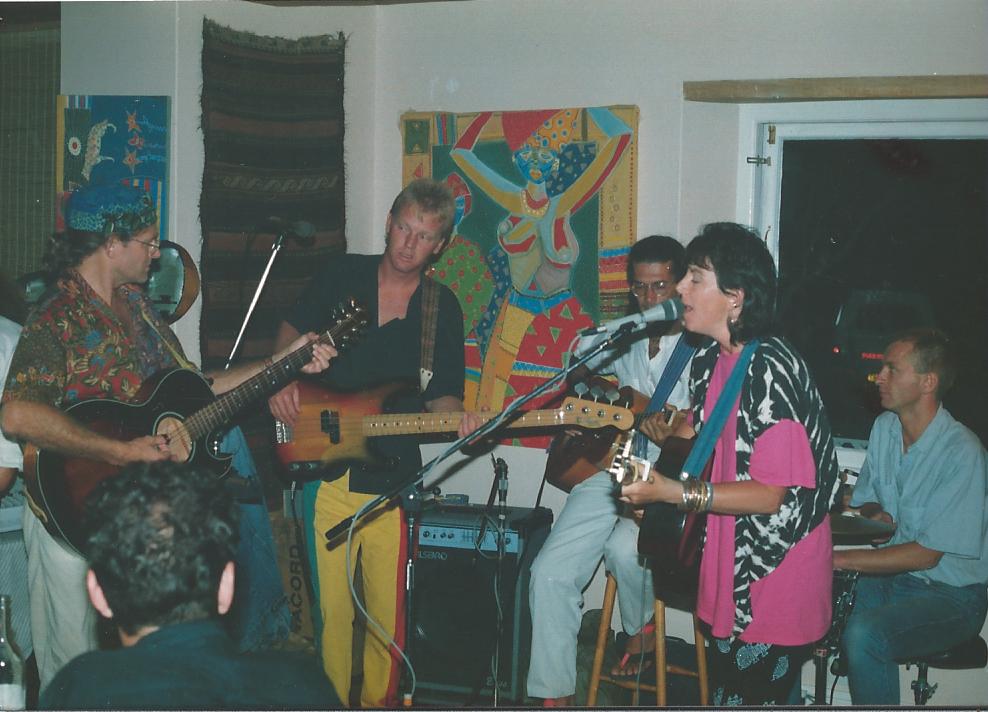 After a while Steph dropped out of the band and we carried on as a duo, playing every week at a local restaurant called The Red Herring. We were an institution there for a few years and had some lovely times jamming there with friends like Steve Newman and Tony Cox (both in this photo), and all the guys from Blacksmith. It was a great music venue, run by Rose Morris. We also took any gigs we could find, playing at weddings, in beer tents and bars, and for parties and dances – anywhere that we could earn a living!
This photo was taken of my dad and me running through a song before performing at the Barleycorn Music Club. He had come down to Cape Town on a visit.
My father was paralysed in a motor bike accident at the age of 60. This is a photograph taken at his benefit concert, hosted by Des and Dawn Lindberg. From left to right; my brother Jonny, my mother Pamela, my dad, myself, Leandra Feynessey, and my sister Julie.
My dad died in October 2002 after 15 years in a wheelchair.